Partner Success Story: HR Advantage, Leon Cerna, President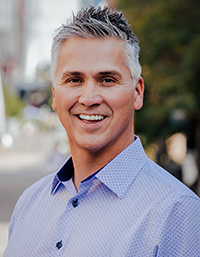 HR Advantage is an HR outsourcing provider serving companies of all sizes. Typically, they support their clients in one of two ways: for companies without a full HR department, HR Advantage provides them with a dedicated HR team. For larger companies, they partner with their HR department to support and advance their efforts to ensure they're not "going it alone." In addition to fractional HR support, their specialties include compliance, talent and leadership development, executive coaching, talent acquisition, recruiting, and compensation consultation.
What Makes You Different from Your Competitors?
First and foremost, we are industry agnostic. We support a variety of industries and business models, including nonprofits. We offer broad experience across many industries, so we can provide a wide array of best practices tailored to fit our client's needs. Our number one priority is to truly understand our client's business, allowing us to become a valuable part of their management team.
How Has Accelerent Helped Your Business?
Accelerent has helped in a couple of significant ways. Topping the list of benefits, it's really about service, and this relates to my personal background. My parents were entrepreneurs, and they would frequently get together with other business owners and use that as an opportunity to share and learn from one another. So, learning from other Accelerent partners has been very helpful. We've only been in business for about seven years, so every opportunity to either hear about others' experiences and challenges is very insightful.
The experience has been highly motivating for me, but it's also been helpful for my team as it's less of a high-pressure sales method. It's about developing relationships, which is the foundation of our work in HR and how we conduct business in general. Accelerent provides that, 100%. We'll often bring in prospective and current clients to breakfast events. We find this gives us a bigger feel, even though we're a smaller organization.
My initial motivation for becoming an Accelerent Partner was to find a way to expand my own network of trusted resources. I am confident in referring our current clients and even prospects to other Accelerent Partners. And if I'm talking to a prospect, and they happen to mention needs on the technical front or any other area, there's often another partner that I can connect them with, even though they might not be our client. It strengthens our network of resources. Being able to help others is one of the things that I look forward to the most. In part, it's one of the reasons why we started the business.
How Much Business Have You Received During Your Time with Accelerent?
We've received approximately $50,000 of recurring revenue so far during our engagement. There are opportunities for that to grow as we continue to add services with these clients. I also feel very optimistic about our pipeline's prospects and growth potential. For example, we have a piece of pending business that came from an Accelerent Partner introduction that will likely be around $20,000 in new revenue.
What Advice Do You Have for Other Accelerent Partners or Prospects That Are Considering Accelerent?
Accelerent is its own reward. The Partners in the group are committed to helping each other—when one ship rises, all boats rise. There is undoubtedly a collective desire to help each other succeed. I love that Accelerent refers to its members as "Partners" because partnership collectively occurs on a daily basis. It's much easier to work with people who have a strong desire to support one another. That kind of drive and motivation is different, as it fosters a low-pressure sales environment where we're all there to help each other grow.
Accelerent is exciting, and it's a lot of fun, but it requires work. The bottom line? You get out of it what you put in, but the effort is well worthwhile.